 CM-One®
Human Ventricular Cardiomyocytes
CM-One®
Human Ventricular Cardiomyocytes
Millions have been spent over the years to identify a way to obtain large quantities of functional human cardiomyocytes, with little success so far. Human Cell Design's founding scientists took an original approach by initially looking for adult ventricular cardiomyocyte markers. They succeeded in producing and selecting mature ventricular cardiomyocytes. CM-One® pure human ventricular cardiomyocytes have then been functionally and pharmacologically validated using electrophysiological methods. CM-One® cardiomyocytes now represent a valuable translational tool for toxicity and efficacy screening studies, as well as for more fundamental research.
READY TO USE HUMAN VENTRICULAR CARDIOMYOCYTES IN UNLIMITED QUANTITIES
CM-One® are high-quality functional human ventricular cardiomyocytes
≥ 95% ventricular cardiomyocytes
Major ventricular cardiomyocyte markers
High level of sarcomeric organization
Low resting membrane potential (-80 mV)
Action potentials with reproducible amplitude
Robust AP duration (>200ms) and upstroke velocity
Stable MEA and impedance recording
NEED TO GO ONE STEP FURTHER?
The Human Cell Design team of experts can provide you with a tailored CM-One® cell model using genome editing technologies.
KEY BENEFITS
Successfully used in impedance and MEA analyses
Successfully used in patch clamp analyses
Validated batches of highly reproducible human ventricular cardiomyocytes
APPLICATIONS
Screening platform for early drug discovery
Lead validation in cardiac drug efficacy studies
Cardiac safety and toxicology studies
TECHNOLOGY LIMITS
Lack of full mature functional response
Partially mature ion channel pattern
DOWNLOADS
QUALITY ASSURANCE
Batch Release Certificates available
Every batch negatively tested for mycoplasma
Every batch functionally validated
FUNCTIONAL VALIDATION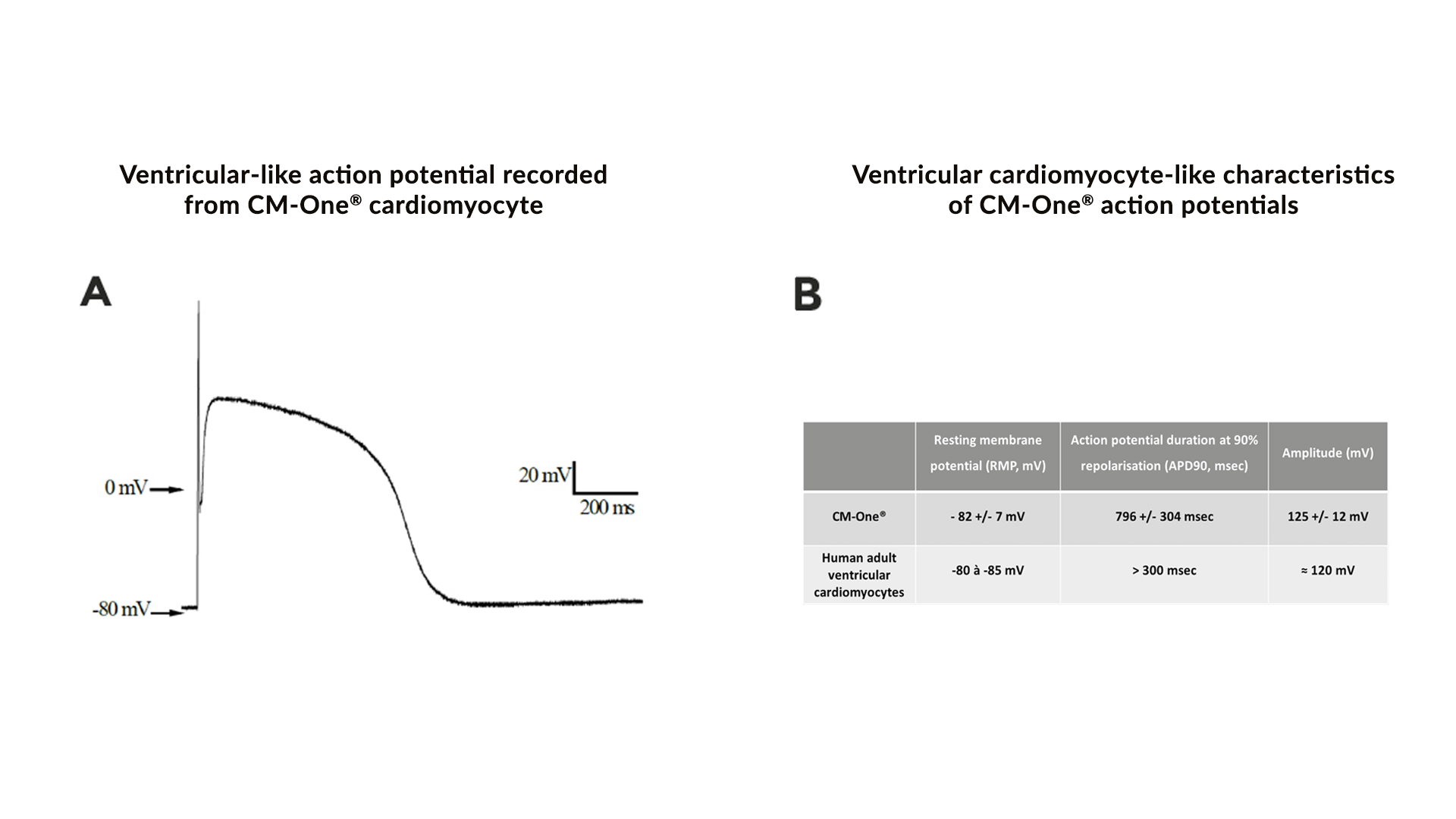 Functional Characterisation
Action potential (AP) fired by CM-One® cardiomyocytes display features of human ventricular cardiomyocyte AP. AP recording from CM-One® cardiomyocytes measured in whole-cell patch clamp experiment (A) and AP parameters (B) showed adult human ventricular cardiomyocyte-like characteristics.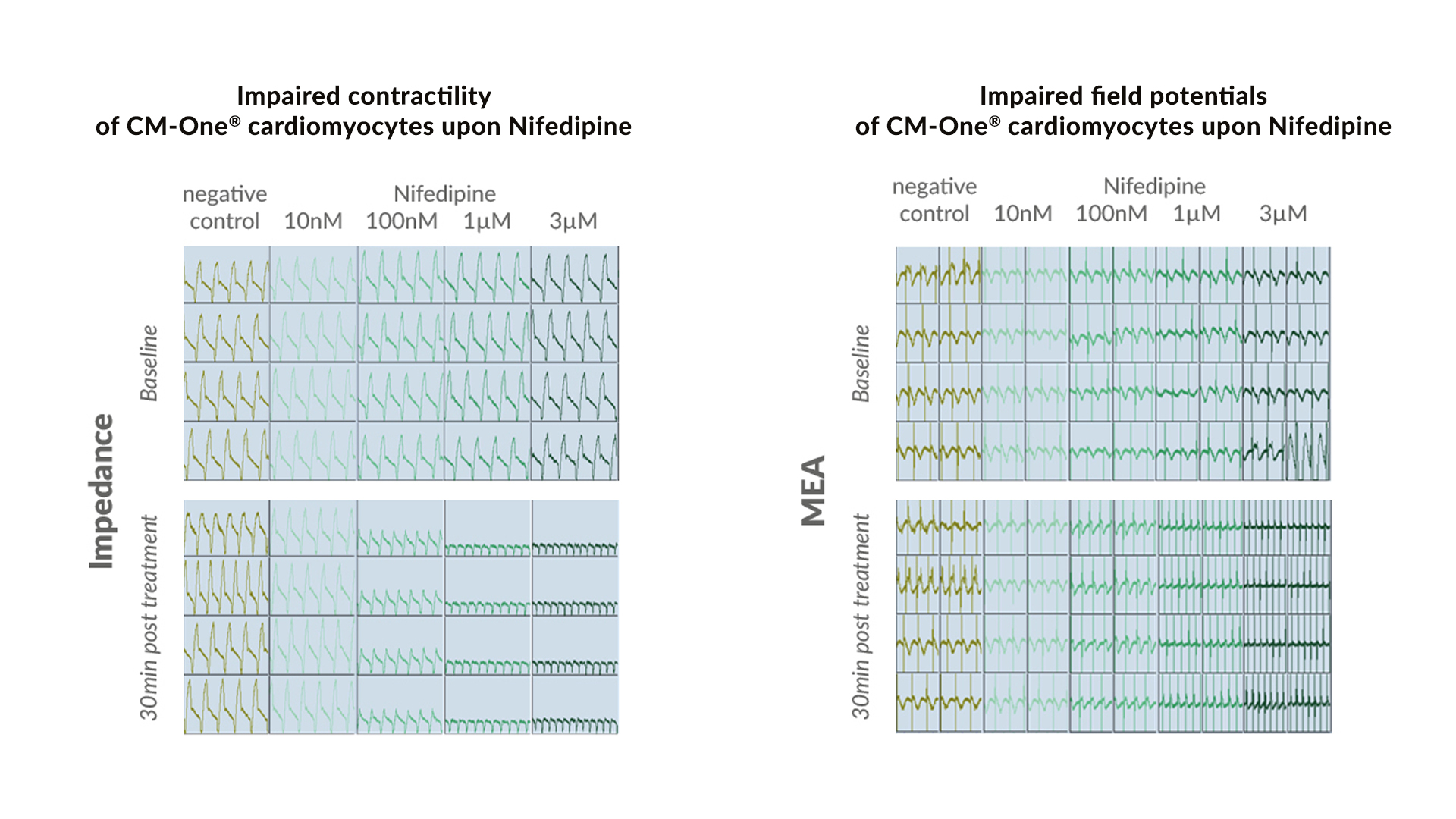 Functional Characterisation
CM-One® cardiomyocytes show impaired contractility and field potentials upon Nifedipine treatment in impedance and MEA recording. Nifedipine treatment reduces contractility and field potential duration of CM-One® cardiomyocytes, as shown by impedance and MEA measurements using the xCELLigence RTCA CardioECR system.