PATENTED CELL MATURATION PLATFORM
For large scale production of functional human cells

PATENTED CELL MATURATION PLATFORM
For large scale production of functional human cells
NATLINE®'s TOP ACHIEVEMENT
Endoc-βH5®
NatLine®'s greatest accomplishment so far is the development of EndoC-βH5®, a human beta cell presenting functional characteristics that are highly similar to those of native human pancreatic beta cells. To date, the Endoc-βH cell family has been adopted by more than 200 academic groups around the world and has generated more than 100 publications in high-profile scientific journals.
MERGING APPROCHES
A cutting edge solution to overcome bottlenecks of human cell models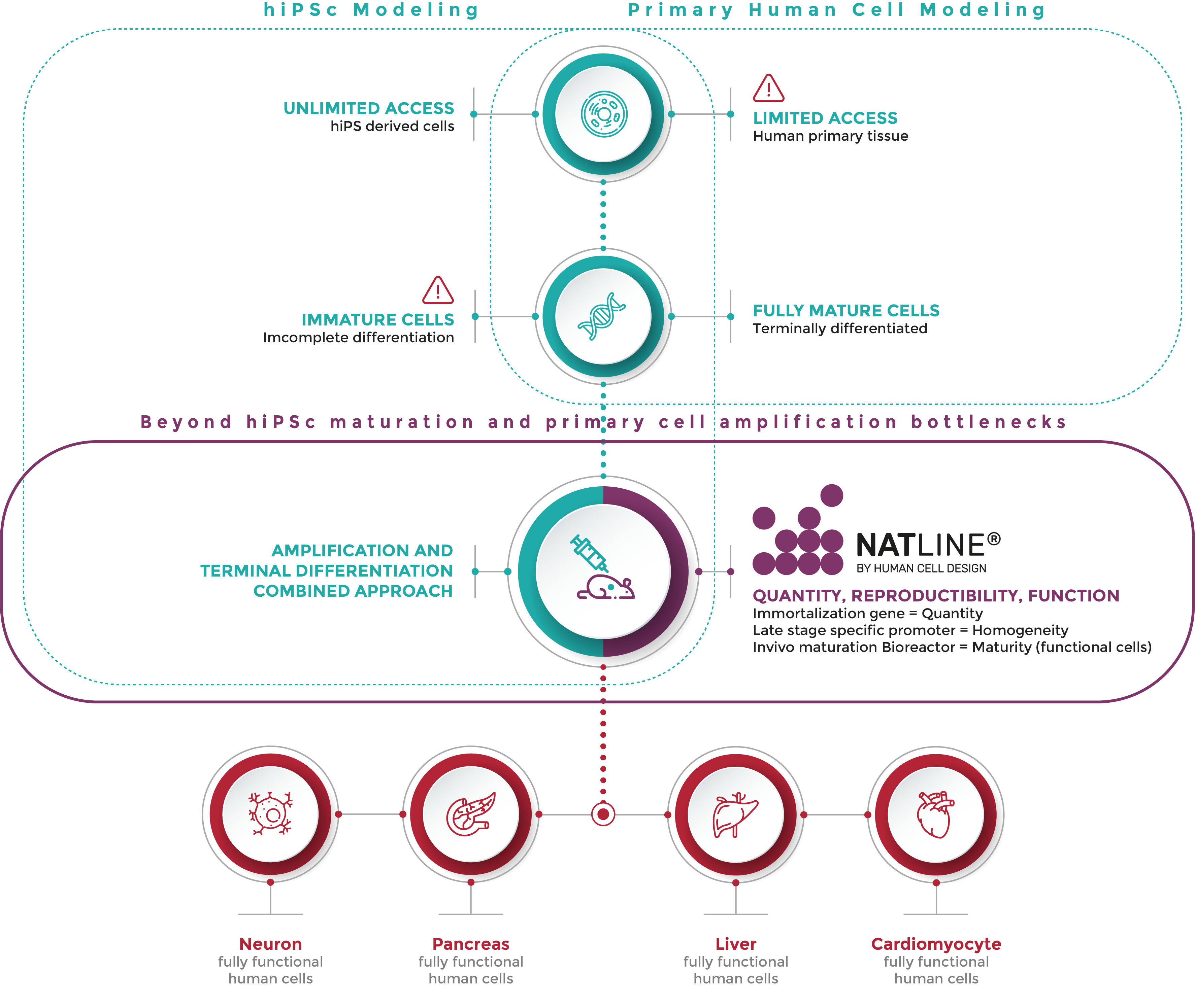 TERMINALLY DIFFERENTIATED FUNCTIONAL HUMAN CELLS IN UNLIMITED QUANTITIES
Human Cell Design has coupled the power of hiPSc reprogramming and primary cell models with its proprietary NatLine® amplification and maturation platform to provide REAL functional cells, highly similar to the native ones. Our proof of concept has led a new generation of the Endoc-βH human pancreatic beta cell family.

A UNIQUE MATURATION BIOREACTOR
SCID mouse kidney capsule is a growth factor crossroad and is used as a "bioreactor" to terminally differentiate progenitor cells
A UNIQUE MOLECULAR TOOLBOX
Unique sets of conditionally expressed molecular tools to selectively amplify terminally differentiated cells and obtain pure populations of highly mature functional cells
TRULY FUNCTIONAL HUMAN CELLS FOR RESEARCH
The NatLine® platform is designed for industrials and academics looking to access unlimited quantities of terminally differentiated and fully functional human cells, which are highly similar to native cells.